CMP: Entertainment Company focused on developing Intellectual Properties from Books, TV, film & music, as well as offering consultative services to individuals and corporations for brand building.
MISSION: To create content that will Entertain the Mind and Inspire the Soul.
Cosby Media Productions is a full-service entertainment company that focuses on new intellectual properties in the areas of books, television and film. New content is already in development with networking and partnership opportunities available for future endeavors. CMP was developed and created on a joint venture by Braxton A. Cosby and Leon Cosby III to combine their talents to build upon a legacy started by the other well known Cosby. CMP focuses on creating content with positive messaging that will entertain the mind and inspire the soul. Braxton, Leon and Shontel have several years of experience in the entertainment business. Braxton is an accomplished actor with credits in television and short films, as well as being recognized as an award-winning author. Leon brings his wealth of experience to the team from his prior dealings as an entertainment business consultant. Shontel is an up and coming acting talent with over ten years of experience in the industry and her tenure in marketing and sales is a powerful asset for the company. With a strong vision and desire to take entertainment to the next level, this second generation of Cosbys is poised for growth and success.
CEO: Braxton A. Cosby
***As seen and heard on: 1380 WAOK, Examiner.com, Huffington Post, Jezebel Magazine, Atlanta Live, CBS NY, Fox Miami, OMTimes Magazine, The Rick Amato Show and Seattle PI. Braxton A. Cosby is a dreamer with a vision of continuously evolving and maximizing the untapped potential of the human spirit. Braxton received a lot of his inspiration from watching the accomplishments and exploits of his famous uncle, comedic legend Bill Cosby.
Braxton A. Cosby is a dreamer with a vision of continuously evolving and maximizing the untapped potential of the human spirit. Braxton received his Bachelors, Masters, and Doctorate in Physical Therapy (with honors) from the University of Miami. Braxton has made it his personal mission to change lifestyles – one bad habit at a time. And now he's getting you in shape. "I feel that God has given me a calling to help people," says Cosby. This certified Sports Nutritionist and Personal Trainer used to co-host a weekly radio show Ask The Fat Doctors with Jamie Dukes (analyst for the NFL Network) on Atlanta's own 1380 WAOK but now hosts his own monthly podcast Fat Free: Ask The Fat Doc where they discuss health/wellness and current events. He also partnered with Jamie Dukes on his Chachersize video workout program to create Chachersize for Men. He runs Boot Camps in the Atlanta metro area and has helped clients lose weight while focusing on their fitness goals.
Professionally, he has been featured as the keynote speaker at the 2012 Atlanta CARES STEMFest for Children and Young Adults event. He also was a presenter for Mercer College School of Medicine and the Louisiana Medical Society's Focus on Exercise and Fitness and has partnered with Emory University as a clinical instructor and worked with a major rehabilitation company in geriatrics.
His new book Fat Free For Life: 13 Principles of Guaranteed Weight Loss and Ultimate Health was published in January 6, 2016 by Charisma House Publishing and has already received endorsements from both Bill Cosby himself and former Olympian and World Champion sprinter Gail Devers. Braxton was honored by JEZEBEL Magazine as one of the 50 Most Beautiful Atlantans for not only his looks, but for his dedication to service in the community and beyond. Braxton is a multi-award winning author for his Young Adult books series The Star-Crossed Saga and The School of Ministry. Braxton has partnered with his cousin Leon Cosby III to pioneer a new entertainment production house called the Cosby Media Productions with 3 divisions focusing on  print, television, and film production. Cosby Media Productions is also part owner of the IPTV Company UHETV (Ultimate Home Entertainment Television) a multimedia IPTV and station based television network that offers licensed and non licensed content services for online and offline platforms seen online in 22 Countries around the world with national distribution in 22 U.S. markets bringing both linear and original content across all forms of end user access via the internet.
Braxton lives in Atlanta, GA  and has been busy filming the Christian based film TRIUMPHANT, based on the cult comic books character.
VP of Business Development: Leon Cosby III
Leon Cosby III, is known for his constant drive to help everyone see their full potential.  His quote, "There is no one better than YOU, except YOU better", is his foundation for encouraging others to achieve their best in their personal and professional lives. Having a God given gift to see the hidden talents in others, and the wisdom to direct them in the best way to use their talents, Leon built a reputation for helping friends and family to see their goals and dreams come to fruition.  Leon is an alum of the historic HBCU, Tuskegee University, where he studied business and marketing. While a student at Tuskegee, Leon found his passion working with aspiring entertainers. After college his desire to help others evolved into the establishment of his own consulting business, LC3 ENTERPRISES, LLC.
Leon spent well over twenty years focused on small business development. He specializes in providing support in areas of project management, negotiation, contract review, strategic planning, marketing and brand development. Leon worked with organizations like Junior Achievement, the Urban League & Comcast, AWAKE, and Charter schools to enrich the lives of youth through a variety of educational initiatives. He has worked with Entertainment and Sports Celebrities like Rodney Jerkins, Paul Pierce, Walter McCarthy, James Torme, Clemons Brothers, and Lil Mo on a variety of assignments ranging from Project management, company development to community service projects.
Now as Vice President of Business Development of COSBY MEDIA PRODUCTIONS, INC. Leon is pursuing his ultimate passion of developing content that is funny, intelligent, engaging, and most of all, entertaining, to reset the industry bar. With over twenty years of experience in the entertainment industry as a consultant and brand builder, Leon has leveraged his relationships and applied his knowledge and experience to position CMP as a multi-media production company that specializes in producing family friendly content in books, film, and television.
He is also an aspiring author, speaker and the proud father of four children and lives in the greater Atlanta area.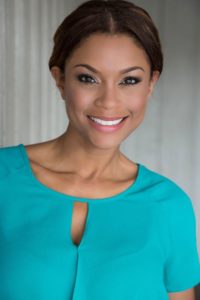 VP of Sales and Marketing: Shontel Cosby
"If your dream only includes you…its too small" – Ava Duvernay
A quote she reminds herself of everyday to help keep her focused and motivated on why she works so hard to accomplish her dreams.  Shontel is fulfilled when she can offer solutions to help make another person's life better.
With over 12 years of Marketing and Sales experience, Shontel is results driven, which has led her to continued success throughout her career in entertainment, healthcare, and non-profit industries. Never afraid of a challenge, she finds comfort in thinking "outside the box."
Attending both the University of Houston with a focus in Public Relations and theater, she eventually graduated from Lamar University with a Bachelor of Science in Corporate Communication, and later went on to climb the corporate ladder in Healthcare Marketing for companies such as Altus Healthcare Management Services and Legacy Community Health as Director to Business Development for the south Texas region. Shontel focuses on developing strategies to meet sales objectives, marketing, public relations, and overseeing outreach and promotion for many of our programs, campaigns and events.   She is a dedicated leader that believes in driving business by cultivating strong relationships, taking chances and good old hard work.
She is also a rising star in the entertainment industry.  With over 10 independent films under her belt and multiple national commercials airing across the country for companies such as Cadillac, Verizon Wireless, DISH Network and Foot Locker, she has accumulated an impressive body of work.
Never losing her passion for film, she balanced being in corporate America with taking acting classes, auditioning and working on film project at night and on weekends for over 10 years.
And today, by the grace of God, all of her hard work, dedication, and refusing to give up no matter how tough things got, Shontel Cosby is accomplishing things that she always knew she could.  After relocating to Atlanta focus on her craft full-time, she can now be seen in her role as Renee in "Queen Sugar", directed by Ava Duvernay and televised on the Oprah Winfrey Network.
She has other projects scheduled for release in early 2017 including a role in a new TV show "Murder Chose Me" on the Discovery Channel airing February 8 and the release of a new Christian film project she will be starring in.