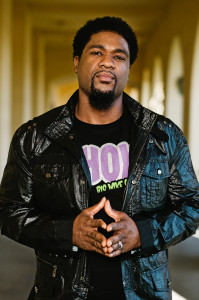 Mike Clemons
Michael Clemons (affectionately known as 'Big Mike') is an internationally renowned drummer and producer. A native of Stratford, CT, Mike got his start in music through the support of his mother, Pastor Rosa Clemons, and their church. As a toddler, his family noticed Mike's propensity for rhythm, and he received his first full drum set at the age of three.
Mike was discovered by R&B producer Stanley Brown who subsequently hired Mike to play drums on tour for countless musical acts such as Aaron Hall, Usher, SWV, Dru Hill, and Mary J. Blige. IN partnership with his brother Nathan, Mike went on to produce hit songs for several artists including Ruff Endz, Tyrese, SWV, and produced the award-winning song for the group Out of Eden.
Since that first break with Aaron Hall, Mike has been in demand for his drumming and production skills in the secular arena. However, having never lost sight of his roots in Gospel music and the church, Mike has come full circle, as for the last several years; he has been the drummer for the Grammy award-winning Christian artist Israel Houghton and New Breed.
Mike has lost over 100 pounds and kept it off through a lifestyle change of diet and exercise. His success in becoming physically fit has even led to opportunities to incorporate physical health lessons and demonstrations into his drum and production clinics around the globe. Mike's new book, MIKE CLEMONS: MY LIFE IN STORY is in stores now.