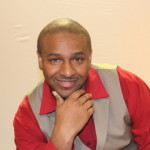 Keshawn Dodds
Keshawn Dodds was born, and raised in the city of Springfield, MA. Keshawn attended Central High School in the mid 1990's, while there, he excelled on the football field as one of the top running backs in the area. Keshawn was able to continue his football career at Wilbraham and Monson Academy and earned a full scholarship to American International College. Mr. Dodds benefited from his scholarship at AIC and graduated in 2001 with a Bachelor of Science Degree in Education. Mr. Dodds later received a Master of Education degree from AIC as well. Keshawn is a former elementary school teacher and former Mayoral Aide for Springfield, under the past Mayor, Charles V. Ryan, Keshawn is now the Director Diversity and Community Engagement at his alma mater, American International College.
Along with Mr. Dodds career journey, he is also a motivational speaker, actor, playright and published author. Keshawn Dodds is an avid writer and strong supporter of education. Keshawn wants to continue to spread his words of faith towards obtaining a great education and achieving all goals that a person has set in their life. Being raised by his mother, Elizabeth Dodd, Keshawn was always instilled with what a good education can bring to a person.  Mr. Dodds firmly believes that, when hard work meets dedication, success is born.
His new Heor-themed novel Menzuo: The Calling of the Sun Prince (Book 1 of The Solar Warrior Series) will be out on eBook, paperback and audiobook this spring.