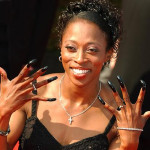 Gail Devers
Gail Devers is a retired three-time Olympic champion in track and field for the US Olympic Team.
A young talent in the 100 m and 100 m hurdles, Devers was in training for the 1988 Summer Olympics, started experiencing health problems, suffering from among others migraine and vision loss. She qualified for the Olympics 100 m hurdles, in which she was eliminated in the semi-finals, but her health continued to deteriorate even further. In 1990, she was diagnosed with Graves' disease, and underwent radioactive iodine treatment followed by thyroid hormone replacement therapy. During her radiation treatment, Devers began to develop blistering and swelling of her feet. Eventually, the sprinter could barely walk and had to crawl and or be carried. A doctor considered amputating her feet. Amazingly, Devers recovered after the radiation treatment was discontinued, and she resumed training. At the 1991 World Championships, she won a silver medal in the 100 m hurdles.
Devers went on to win both World Championship and Olympic gold again and again. Her new book from the GAIL DEVERS MY LIFE IN STORY: STRONGER, depicts her life in a narrative format. Co-authored by Braxton A. Cosby, is out now on eBook, paperback and audiobook.