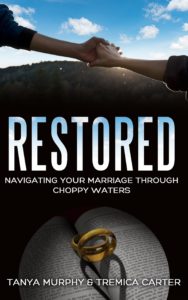 Restored: Navigating Your Marriage Through Choppy Waters
Get the help you need to find joy and stay happy in your marriage, from the inspired self-help 30 day journal!
Authors Tanya Murphy and Tremica Carter are sold out, bible preaching minsters of the faith, that have dedicated their lives to helping other couples overcome the struggles of marriage and understand the concept of wholeness in Christ. They lead spirit-filled miniseries and mentor programs across the country. They are both married and live out their faith through their personal testimonies of surviving breached marriages.
Coming soon!