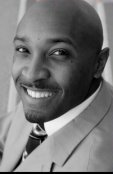 Chayil Champion
Author and speaker, Chayil Champion is the founder and minister of Yoke Breakers Worship Center, a facility soon to be constructed in Southern California. Champion is also the best-selling author of EXITING THE WILDERNESS, …BUT HE SAID HE WAS A CHRISTIAN, and AFFILIATED. After receiving Christ as his personal savior at the University of Miami, Champion continued to build upon his Christian foundation by joining Athletes-in-Action (AIA) and Fellowship of Christian Athletes (FCA). It was through these organizations that Champion grew in the LORD while competing as a two-sport athlete in football and track.
After graduating with a double-major in Communications and English, Champion spent over 12 years in education as an English Teacher, Football coach and Vice Principal before being called to full-time ministry. Champion studied and advanced in ministry under the teachings of Pastor Russel Johnson (I.B.B., Miami, FL), Dr. Tom Mullins (Christ Fellowship, Palm Beach Gardens, FL) and Pastor Toure' Roberts (One Church International, Los Angeles, CA). Champion has served in ministry for over 15 years and was co-founder of 5,000 Fathers ministry with Pastor Toure' Roberts.
Now, as Champion embarks on his call to leadership, he aims to use his writing, speaking, and teaching gifts to reestablish hope to the broken and oppressed with the message of Jesus Christ. Champion currently resides in Los Angeles, CA where he serves in outreach ministries that are designed to restore those suffering from poverty, homelessness, and addiction.
BOOKS:
…But He Said He Was  Christian
Affiliated
Exiting The Wilderness: God's Plan For Us to Repent, Conquer, and Prosper 
Follow Champion here:
Twitter – @DrChampion01
Website – http://www.thebrokenpulpit.com